Company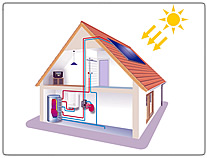 History Of SGF Energy (From The Past Till Today)
In this living century, fossil based energies and nucleer energy, causes the damage of natural environment, limited use of fossil based energy and increasing costs day by day, made human to be interested in alternative energy sources.
At this "looking for something" situation, the "solar energy" is the most serious part, which is heritage for the future decades.
Basic production history of our company started in 1973, by manufacturing metallic materials at 150 m2 studio, untill in 1978, by the leadership of İsmail Dag, changed to manufacturing of solar panels and systems.And this history continued under the different company names untill today.
During this time-period we have a leadership role for quality and trust of; developping the solar energy collectors and systems, manufacturing, projecting, installation .And now; we are manufacturing at 2700 m2 indoor area and 1600 m2 outdoor area.
Our company also attaches importence on R&D, under the knowledge of initiality; product and service quality with customer satisfaction and renovation.In Turkey; the great capacitiy  of solar Energy, has brought-out the high potential of manufacturing solar water heater systems.
Attaining hot water from solar energy, generally flat collectors are used.Untill 2001, 8 million m² flat collector is used in Turkey, and this amount is increasing day by day and there is 1millon m² flat collector, manufactured average per year. In 2010, anticipated the usage of flat collectors is 15 million m². This value shows the magnitude of flat solar collector usage in Turkey.
Flat collectors is initially used in Turkey at Agean location, at the summer houses and touristic hotels in 70's.After some technological transfers from Italy and Greece, in Konya, Antalya, Adana, Mersin and Hatay (other cities of Turkiye), manufacturing of collectors was started initially and expanded to other cities.
In Turkey, although economic crises, in 70's and 80's; usage of solar collector systems, increased.According to written sources; the average usage of solar energy is 30-50 million m² but only in Turkey this value is 8 million m² only at 2001. And this value shows that the %15-20 percent of installed collectors in the world.
Turkey is one of the biggest and serious country at the usage of flat collectors. Average 2-3 million different usage system in Turkey. Turkey is also one of the flat collector manufacturer country, and theese manufactured collectors are being exported to Australia, U.S.A., Germany initially and then; Africa, Europe and Oceania.
There are, 15-20 number of big-scale and a lot of small-scale manufacturers in Turkey.According to the info that belongs to 2001, average flat collector area is 95 m² and manufactured energy amount is 4 million MWh, come up to 1000 people.Solar thermal systems are two groups as; low degree application and high degree application and used as domestic and industrial.
There are 20.000 people are working at manufacturing and installation of flat collectors.Flat collectors' technical specities and materials, in Turkey, could be classified as; panel, case, the upper glass cover, isolation and bottom plate.Aluminium case is used as; Press, electrostatic powder coated and anodizing coated
Bottom plate; is from aluminium and galvanized sheet metal. thickness is between; 0,30-0,50 mm. Embossing and diamond pattern is used. Panel is made from copper and aluminium. Manufacturing of copper panel, copper pipe and copper plate connection is made by ultrasonic welding system.
Isolation; glass-wool, polyurethane, rock-wool and climate plate is used. At the isolation system refractoriness is itermediary.

Upper glass cover; natural glass, five times increased resistance temperred glass, low ironed glass which has permeability is equal to %91, more than; %20 at infrared areas, %10 visible areas; is used. Theese glasses shape is manufactured as; natural, mandarin accents and prismatic accents. (for example; Trakya Cam; has done the hail-test on their collectors' glass.)
Panel surface cover; black paint and selective cover type. Selective cover is made from; chrome, nickele and titanium. Selective surface emission is %3 but black-paint emission is %88.
      
The lowest efficiency of standard copper collector is %10, the lowest efficiency of aluminium collector is %0, but selective surface covered and low tempered-iron glass collectors' lowest efficiency is nearly %30-40. Collectors' instant efficiency is nearly the same. The basic criteria, that effects the efficiency of collector is; Lowest efficiency level.
Although theese, basic criterias desired from collectors are;
- High efficiency
- Long life
- Appropriate price
- Easy installation
- High absorption, low emission
- Low heat-loss
- Durability to bad-weather climate
- Ultraviole-rays durability (epdm gaskets)
- High temperature durability (silicon gaskets)
- Impermeability
- Decent ventilation
- Durability to corrosion
- Little pressure loss

Statistical data for flat collectors, Electrical Power Resources data can be used. For the technical data of collectors that we used you would visit our web-site